Kennedy Center Honors
Of all the awards that Dave had the distinction of receiving in his long career one the ones that he most proud of was been a Kennedy Center honoree.
The Kennedy Center awards are based on "exemplary lifetime achievement in the performing arts". Dave stated "that the award was a great honor" for him but that it was also very significant "that this honor recognizes the importance of jazz in American culture".
This section documents the weekend of celebrations, the profiles, the tributes paid and the media coverage. Dave received his award on his 89th birthday, 6th December 2009.

From the Kenndy Center website - December 2009
President and Mrs. Barack Obama and Vice President Joe Biden were seated with the honorees in the Presidential Box of the Kennedy Center Opera House, after having just hosted the traditional White House reception for the honorees.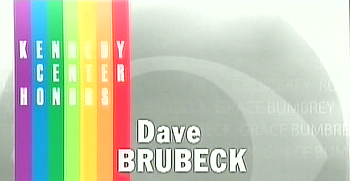 Host Caroline Kennedy commenced the festivities by quoting her father, President John F. Kennedy, who said, "I look forward to an America that will not be afraid of grace and beauty. I look forward to an America that will reward achievement in the arts as we reward achievement in business or statecraft." She described the five 2009 honorees as "a piano virtuoso from the California hills whose inspired rhythms made him America's herald of a new age of jazz; a goodfella from the mean streets of New York who redefined acting and made movie audiences an offer they couldn't refuse; the little girl from a St. Louis church choir who could hit high C and became the diva we cheered in the houses of grand opera; a mischievous boy from Brooklyn who provoked billions of laughs by walking loudly and carrying a big schtick; and a rocker from the Jersey Shore who composed his own musical universe and – across America and the world – became the Boss."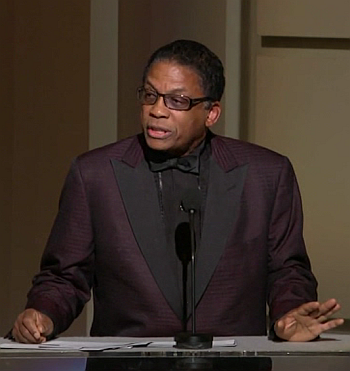 Multiple Grammy Award-winning musician Herbie Hancock took the stage to talk about pianist and composer Dave Brubeck, whom he credits as his musical inspiration. "When I first heard Dave Brubeck that was the beginning of my long-term relationship with jazz. I had been playing classical piano since I was seven. When I was a teenager, I started listening to and playing jazz. When Time Out was released, it was a whole different spin on the jazz I'd been used to. Who could have imagined that this completely new music could be such a hit? This was 1959. There were new things happening in jazz, but not on the radio! The experimental stuff was in the little clubs, the after-midnight jam sessions, a few records here and there. But with Time Out , jazz took off into the stratosphere."
Hancock then introduced a musical tribute to Brubeck: A jazz performance by some of the most famous musicians of the genre – Grammy Award winner Christian McBride , Grammy Award nominee Bill Charlap, Jon Faddis, Bill Stewart and Miguel Zenon – performing together as the Brubeck All-Star Jazz Quintet, presenting an intricate medley of Brubeck classics "Unsquare Dance," "The Duke" and "In Your Own Sweet Way," followed by renditions of "Take Five" and "Blue Rondo a La Turk."