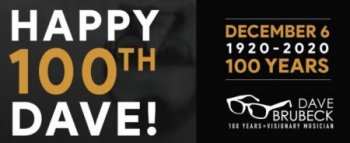 Dave's centenary birthday was recorded in many major media outlets detailing his major contribution to Jazz throughout seven decades and his work as a composer, civil rights activist and humanitarian and in the process touching the lives of people across every continent. Outlined below, released on the Discogs website is a major reflection on Dave's career and life with input from his family and some major figures in the world of Jazz.






What Do We Overlook About Dave Brubeck on His 100th Birthday?

Authors, Musicians, and Family Members Reflect

Morgan Enos (© Discogs)
Dave Brubeck nearly broke down in tears in front of Ken Burns. While discussing racism on camera for Burns' 2001 series Jazz at his Wilton, Connecticut, home, he swerved into a childhood memory about his father taking him to meet a Black cowboy by the Sacramento River. The cowboy opened his shirt to reveal a brand on his chest. "My dad said, 'These things can't happen,'" Brubeck remembered, his voice cracking with emotion. "'That's why I fought for what I fought for.'"
That night, Brubeck's bassist-trombonist son, Chris, who had been out on a work deadline, inquired how the shoot went. "My dad said, 'Ah, man! It was terrible! I completely blew it!'" Chris Brubeck tells Discogs. "The next day, Ken Burns came back to film some more stuff, and I came over and said, 'My dad thought he blew it. He felt really bad about losing it on camera.' Ken went, 'Are you kidding? That is the complete heart and soul of my series.' He thought it was the emotional highlight."
"Anyone that was in the jazz press took the time to watch the entire Ken Burns Jazz series, and it started generating this new assessment of Dave," Chris continues. "[Instead of saying] 'He's too straight; he's boring; he's corny,' they started thinking, "He's a real human being that has a big heart and cares about people. There's a hell of a good man who plays music originally and well, and let's appreciate him.' It's part of what made the last quadrant, or fifth, of his life so beautiful. All the axes that were being ground suddenly were laid to rest."
The pianist-composer, who died in 2012 at 91, was one of the most famous jazz musicians who ever walked the planet — and for that fact alone, he was controversial. His 1959 classic Time Out was the first platinum — and then double-platinum — jazz album. The chances are that "Take Five" pops into your head when you hear the word "jazz." Later in life, he was an NEA Jazz Master and a Kennedy Center honoree. But while his peers, like Charlie Parker, Gerry Mulligan, and Charles Mingus, lived on the edge, Brubeck was a drug-free, monogamous Christian. Mix that with the fact that he was a white man in a primarily Black art form who commercially sailed past most of his peers, and you've got a recipe for resentment.
These days, Brubeck's legacy is ironclad. Contemporaneous critic Ira Gitler may have denigrated him as an interloper and "Take Five" as "Chinese water torture," but in 2020, most revere him as a pivotal figure. Much of this discourse revolves around the fact that Brubeck constructed pop hits, like "Unsquare Dance" and "Blue Rondo à la Turk," with unconventional time signatures. The fact that Brubeck turned cerebral concepts into catchy tunes remains crucial to understanding his art, and Time Out remains a desert-island disc.
But if you want to understand Brubeck better on what would be his 100th birthday, there are bigger lenses through which to view him — and some of them have nothing to do with 5/4, 6/4, or 9/8. Above it all, Brubeck was a lifelong experimentalist, a steadfast family man, and a tireless advocate for social justice.
"A lot of the dialogue about Brubeck is still focused on Time Out, and fair enough; it was a very important record," Philip Clark, author of 2020's Dave Brubeck: A Life in Time, tells Discogs. "But what many people don't recognize is that there were 15 years of work before it and nearly 50 years after it. Time Out is an excellent album, but listen hard, and listen wide."
To grasp Brubeck's music beyond odd time signatures, consider his harmonies, not just his rhythms. His compositions are where American stride pianists and European composers collide. "What happens when you take the stride piano of Willie 'The Lion' Smith or Count Basie and put that with the harmonic thinking of Bartók or Schoenberg?" Clark asks. "He slammed together material from different worlds that ordinarily shouldn't belong together. Somebody might have put those things together, and it might not have worked at all, but Dave made it work."
"The funny thing is that the stereotypes about Dave tell you how well-schooled and formally trained he was, but he had a looser and less academic approach to the creative process than almost any jazz musician I've met." – Ted Gioia
If your impression of Brubeck is that of a lightweight, anodyne pianist suitable for cocktail hour, that's simply not accurate. Even on his biggest hits, he played thunderous block chords; onstage, his approach was extremely spontaneous.
"I never encountered a jazz musician with a greater commitment to improvisation than Dave Brubeck," Ted Gioia, the author of 1997's The History of Jazz, 2012's The Jazz Standards, and 2019's Music: A Subversive History, tells Discogs. "Even after he achieved fame and financial success, he still took chances onstage that few established stars would consider. Even a song he had played thousands of times, such as 'Take Five,' might sound different night to night. The funny thing is that the stereotypes about Dave tell you how well-schooled and formally trained he was, but he had a looser and less academic approach to the creative process than almost any jazz musician I've met."
"I think one of the bizarrest things is that at the height of his career, people would say, 'Oh, Dave is really commercial,' or 'He's trying to be commercial," Dan Brubeck, the drummer son of Dave, tells Discogs. "I never understood how people thought that, except that they were just completely ignorant of his entire career. He never once did anything to try to be popular or commercial." And, yes, this even extends to you-know-what album: "Of course, Time Out was the most popular record he ever did, but he broke every rule. He didn't play any standards; he played all original tunes. All the tunes were in odd time signatures, and no one had ever done that before."
While egghead influences swirled through his work, Brubeck was no prim classical musician. "When people talk about Dave, there's all this stuff about how he was into fugues, polytonality, and polyrhythms, but there's another side of him," Clark notes. "I saw him play a lot, and occasionally, in the middle of a solo, he'd just slam a chord down to see what would happen. If he felt it got a little routine, he wasn't afraid to trip himself up and slam some chord down, and just laugh, as if to say, 'What have I done?' Some of the best moments in his concerts were moments where he surprised himself."
For instance, Gioia says, listen to his 1952 live recording of "Over the Rainbow," which he cites as the first jazz performance to avoid syncopation. "Almost everything on this track is played on the beat, which shouldn't work for jazz," he says. "Syncopation is the main tool jazz musicians use to propel their solos forward, and the idea of working without it is akin to playing tennis in handcuffs. But somehow, Brubeck not only makes it work but creates something magnificent."
"I don't think it's going too far to claim that this track anticipated the later merging of classical and jazz techniques promoted by the ECM label with so much success," he continues. "But Brubeck was doing it twenty years before ECM."
How did Brubeck straddle the worlds of improvisation and composition? Posi-Tone founder and producer Marc Free chalks it up to "a sense of spontaneous composition." About his interplay with his finest foil, alto saxophonist Paul Desmond, "Brubeck would play the melody, play the arrangement, but then he and Desmond would go into spontaneous counterpoint that felt just as intentional as the written part," Free tells Discogs. "They're listening to their voices and also to the other people in the band. It's a higher level of interaction that's very serious."
Working in the realm of "spontaneous composition," a lesser pianist might make abrasive, unstructured music. "You'd have a hard time trying to call Brubeck's music unfocused or angry or whatever," Free continues. "It's always very cogent, joyous, and playful, with a childlike quality."
"It's easy to miss the point that Brubeck was searching through music and not through some stylistic adherence," Free adds. "And yet at the same time, he was also very geared toward being entertaining, which unfortunately at some point became kind of gauche amongst the in-crowd of his fellow musicians."
In his review of Time Out, Gitler called Brubeck a "semi-jazz player" — a denigration that's specious at best. No matter what lane a jazz musician occupies, they must know how to swing and play the blues, and Brubeck did both masterfully. "He swung, and that's the mark of real jazz," saxophonist Walt Weiskopf tells Discogs. "He did it in his way. It's pretty hard to deny that the music has that impact. It's compelling. It's not boring."
"If people want to knock Dave Brubeck and say 'Well, this guy is a white jazz guy, a white jazz player,' they are overlooking just how well he can play the blues," Free says. "And he can sing the blues, per se, with his instrument. I think that's undeniable. His music is infused with the blues and comes from the blues. There was an advent of chamber jazz or third-stream that clearly he's aware of, but he's back to the blues. It's a very expressive, soulful thing."
Charlie Parker once chalked up his technique to "trying to play clean and looking for the pretty notes," and one could say that Brubeck followed that maxim as well. "My favorite moment in Brubeck's education was his failed attempt to study composition under Arnold Schoenberg," Gioia says. "During their lesson, Schoenberg interrupted Brubeck's playing and asked why he had chosen a specific note, and Brubeck replied, 'Because it sounded good.' Schoenberg got upset at this, and the result was a shouting match. But I still think that Brubeck's position was unassailable. Sounding good was not only a smart move but the basis for much of Brubeck's lasting success."
It's one thing to be a musical tinkerer; it's another to maintain that adventurousness into one's autumn years. Even after four Time Out sequels — 1961's Time Further Out, 1962's Countdown: Time in Outer Space, 1964's Time Changes, and 1966's Time In — Brubeck was just getting started. He wrote, practiced, and performed until he was physically unable to do so.
"[When] it was time for him to stop hitting the road, he [stayed] at home writing new melodies and working on new pieces," Chris Brubeck says. "He wrote so many major choral pieces, orchestral and symphonic works, and poetry based on Langston Hughes or Biblical texts — which he thought was the best way to fight Christian hypocrisy — he was just on it until the end."
"The whole thing is, everybody playing jazz is trying to play their own music and still communicate … Well, Dave played his own music and communicated to a much larger audience than the known jazz audience." – George Wein
Pianist Taylor Eigsti, who was close to Brubeck, remembers the last time he saw the man who mailed him Christmas cards signed "Uncle Dave." "I went up to the house to have dinner with him and his [family] a little less than a year before Dave passed away," Eigsti tells Discogs. "I remember being at the dinner table, and he had a little Casio keyboard there. He was still working out musical ideas [even though] he was too frail to travel and perform at that point."
"He was always writing music, even when physically playing music was difficult for him," Brubeck's son Matt Brubeck, an improvisational cellist who has worked with Tom Waits, Sheryl Crow, and Kronos Quartet, tells Discogs. "It was nonstop creativity in that regard, and it was only in the last year of his life that those kinds of things shut down as the aging process took over."
"He was always searching for new inspiration in melody and time signatures," George Wein, the 95-year-old founder of the Newport Jazz Festival and New Orleans Jazz and Heritage Festival, tells Discogs. "He did that right up until the end."
Numberless musicians have pursued their craft at the expense of their family life, but Brubeck deserves credit for masterfully balancing both. "His marriage lasted 70 years — how many people in the entertainment business can make that claim?" Gioia asks. "He often looked for ways of collaborating with his family members, and did that with a degree of success few others in the history of jazz can match. When you only look at the awards and honors, it's easy to forget that he also was a role model in how to balance family responsibilities and a demanding career. I know I was inspired by this example."
"He was not a guy, like most jazz musicians, that would stay up until five in the morning to jam, or to go chase women," Chris Brubeck says. "He was the guy that, when the gig was over, would say, 'I've got to get back to my wife and kids.' Right there, that cut out two-thirds of most jazz musicians. They weren't going back to anything."
It's impossible to state the importance of Iola, his wife and the mother of his six children, in Brubeck's life and career. She was his artistic collaborator, advocate, business manager, and constant companion. "Iola was his guardian angel," Fabian Almazan, a keyboardist and the founder of Biophilia Records, tells Discogs. "Anywhere Dave went, Iola was there, and you could tell the love between them was deep."
"Women are the arbiters of culture, and Brubeck clearly knew this because his relationship with his wife was a key portion of everything he was doing." – Marc Free
"She was incredibly sharp, incredibly astute," Clark says. "She was incredibly protective of him. Later in his career, when he was getting into his mid-eighties, people would come backstage with stacks of LPs to be signed. I'd see her occasionally nod to Dave's manager as if to say, 'Get these folks out. It's too much for Dave.' But it was all done incredibly politely."
"My mom and Joyce Wein — George's wife — were hugely important women in the history of jazz," Chris Brubeck says. "There are players that are important, like Marian McPartland on piano and many others, but my mom was a person who had ultimately six children with Dave and would see him come home from nightclubs at three in the morning smelling like an ashtray, because that's how they used to run the jazz clubs."
Partly in order to get Brubeck out of the smoke and grime of the nightclub circuit, Iola wrote to colleges up and down the West Coast. "She created the business concept of jazz being played at colleges," Chris Brubeck says, in a nod to albums like 1953's Jazz at Oberlin and 1954's Jazz Goes to College. "Part of that was because, you know, who goes to college? It's usually brighter people. It takes more intellectual pizzazz to understand what's going on in jazz compared to 'Louie Louie,' so she said 'OK, let's bring jazz into this place where more intellectually engaged people are.'"
"Women are the arbiters of culture, and Brubeck clearly knew this because his relationship with his wife was a key portion of everything he was doing," Free says. "You know, the music also appealed to women, which is a key point because it was intelligent. It was uplifting and joyous. It was passionate and inclusive. And those are the adjectives that bring women in. That's what we need more of today in jazz to build the audience we have."
All of Brubeck's children describe the house as a hotbed of musical activity. "I'll probably get some flack for this, but it was kind of like being raised in a circus family," Brubeck's daughter, Cathy Yaghsizian, tells Discogs. "I think they did the very best they could balancing family life with a career in the public eye."
While Brubeck was often away on tour for extensive periods of time, he included his family in his musical excursions as much as possible. "When my dad would come home, he'd say, 'Let's have a jam session,' and we'd all go into the front room where the piano was," Yaghsizian says. "My brothers were very young and trying out different instruments, but I wasn't much of a musician. My mom had given me a tutu when I was little, and I would run to my room, put that on, and come dashing out into the front room and try to dance to all these crazy rhythms he was doing. I don't think I was especially graceful — crashing into the coffee table, knocking into people — but I was enthusiastic!"
Her exuberant moves inspired a classic Time Out track. "'Kathy's Waltz' was named after my daughter Catherine who was always dancing and dancing really funny steps," Brubeck said in 2003. "It starts as Kathy jumping around the room in 4/4, then goes into a waltz, which is Kathy's Waltz." (Yaghsizian wasn't the only Brubeck child to get her own tune; Exhibit B is "Crazy Chris.")
This familial warmth extended to those Brubeck did business with. "If I started finding out maybe the promoter had a problem, Dave was always willing to adjust to the problem," Wein says. "He always cared for the other guy. That was the thing when you were booking a festival. If you had a schedule change, the Brubeck group would always adjust to your problem and make life easier for you as a producer."
Brubeck intentionally booked concerts in cities his wife and children might enjoy visiting. "As a 10-year-old, I had the rare privilege to travel abroad, which didn't mean just a little trip across the border south of San Diego," Brubeck's eldest son Darius, a keyboardist and music professor, tells Discogs. Darius Brubeck accompanied his father's quartet on their government-sponsored first tour to Europe, as captured in the 2019 documentary The Jazz Ambassadors.
"He pulled me and [my brother] Mike onstage after a tremendous opening concert in Szczecin, Poland," he continues. "We went out there for an encore and played 'Take the "A" Train.' Mike played drums with help from Joe Morello, and I sat by the right hand of the piano with my father."
While behind the Iron Curtain for the jazz ambassador program, in which the State Department also sent Louis Armstrong, Dizzy Gillespie, Benny Goodman, and Duke Ellington to improve the public image of the segregated United States during the Cold War, Darius Brubeck perceived a new consciousness flowing through his father's audiences.
"The tour snowballed, and I don't mean in a way resembling Beatlemania," Darius Brubeck said in The Jazz Ambassadors. "There was a more serious aspect — kind of spiritual, nationalistic, global, you know. People reaching beyond boundaries on both sides, and I was lucky to see a lot of this taking place."
"Besides being a family man, Dave always stood up for Civil Rights," Chris Brubeck says, and his father had a decades-long relationship with racial justice. During World War II, as part of the 140th Infantry Regiment, Brubeck formed the Wolf Pack, often cited as the first integrated military band in the war. (Brubeck later said his battlefield experiences compelled him to play "pretty vicious piano.")
While touring in his classic quartet, he witnessed discrimination firsthand due to bassist Eugene Wright being a Black man. "People are like, 'What was it like in the early days?' and I always say, 'Did you ever see Green Book?'" Chris says. That gives you a little flavor of what it was like. Because he showed up with Eugene Wright, certain festivals said [affects incredulous voice] 'Well, we can't have a Negro fellow up there playing bass with you!' My father described scenes to me where they wouldn't be going on because the president of the school was trying to figure out what to do and the audience was shouting and stomping their feet because the concert hadn't started."
After returning home from the European tour, Dave, Iola, and Armstrong wrote 1962's The Real Ambassadors, a socially conscious musical that commented on the Cold War and his experiences on the State Department tour — as well as the Civil Rights movement, the nature of God, and other macrocosmic themes.
"That's sort of the premise of the show — some of the things that happened while he was overseas and how he was treated as a representative of the United States," Yaghsizian says. "That contrasted with the irony that there was all kinds of unrest in America, like in Little Rock, Mississippi, and yet he was out preaching the good word about democracy and equality."
The Brubecks recorded The Real Ambassadors with Louis Armstrong and His All-Stars and producer Teo Macero and performed it at the 1962 Monterey Jazz Festival. "If you're only going to listen to one track, I would say to listen to Louis sing 'They Say I Look Like God,'" Yaghsizian says, holding back tears at mention of the title. "I'm going to cry if I talk about it. It's very moving."
"Louis was making a political statement through our words. He had tears in his eyes as he sang," Brubeck told JazzWax in 2010. "The lyrics expressed what Louis felt in his heart. After his State Department tour in 1960, it was clear that he was America's real ambassador to the world. He was the person most identified with America worldwide. The words written by Iola, my wife, and sung by Louis said there should be no black or white distinctions, that people should be measured as individuals."
Despite its sheer ambition and the fact Brubeck made it at the height of his popularity, the album remains something of a curio, partly because it was never filmed. "We could have had it filmed the night we performed it at Monterey," he continued. "A camera crew asked me if they could shoot it. I said, 'That would be great.' They said it would cost me $750. I said I didn't have that kind of money for the film. In retrospect, boy, what a terrible goof that was."
Around 1967, Brubeck disbanded his famous quartet of Desmond, Wright, and Morello to focus on 1969's The Light in the Wilderness, an oratorio with a jazz combo, a symphony orchestra, and a choir, which explored the tribulations and teachings of Christ. After attending one such performance, Rabbi Charles H. Mintz, who led the Union of American Hebrew Congregations, asked Brubeck to write a piece to soothe strained tensions between Black and Jewish communities in America.
As someone who was neither Black nor Jewish, Brubeck was initially reluctant. Eventually, he agreed and wrote 1969's The Gates of Justice, which explored the spiritual and experiential parallels between the two marginalized groups. "The essential message of The Gates of Justice is the brotherhood of man," Brubeck wrote in the original program notes. "I hoped through the juxtaposition and amalgamation of a variety of musical styles to construct a bridge upon which the universal theme of brotherhood could be communicated."
Brubeck then quoted Micah 6:8, which he called "a summation of my thinking." "It hath been told thee, O man, what is good and what the Lord doth require of thee: Only to do justice, and to love mercy and to walk humbly with thy God."
As tributes from all corners of the jazz world ring in Brubeck's centenary, it's clear he's been more fairly appraised as a true American original. So, where can his legacy go from here? The answer, naturally, is in the music. Dip into his voluminous discography, and you'll get the more complete picture of who he was beyond "Take Five" — and undoubtedly find some surprises along the way.
"The whole thing is, everybody playing jazz is trying to play their own music and still communicate," Wein explains. "Well, Dave played his own music and communicated to a much larger audience than the known jazz audience. Erroll Garner did the same thing. They went beyond the normal jazz audience. We needed people like Dave Brubeck to reach out to the public like that. They were a necessity for keeping the music alive."
"Some people bought Time Out and their interest in jazz stopped there, and fair enough," Clark says. "But for lots of other people, that led them to Thelonious Monk and Miles and Mingus and Ornette and Coltrane. In that way, he was the route into jazz for a lot of people."
Simply keeping the flame would be an accomplishment enough for Brubeck to hang his hat on. However, he managed to be so much more. Barack Obama even viewed him as the country he led in microcosm. "You can't understand America without understanding jazz," he stated during Brubeck's 2009 Kennedy Center induction, "and you can't understand jazz without understanding Dave Brubeck."
"He's a piece of Americana, like John Glenn or something, you know what I mean?" Chris Brubeck asks in his father's ultra-modernist home where he related the emotional story to Ken Burns two decades ago. "A guy that's like a cowboy, who somehow ended up being where he is, being known all over the world."