The story of how Dave Brubeck Jazz.com came about
First of all this is not the official Dave Brubeck website. That can be found by pressing this link.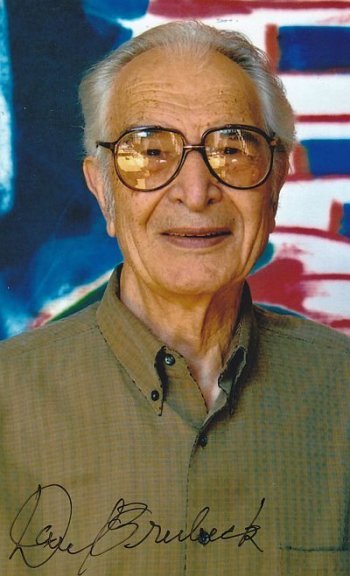 When starting the development of this website in early 2012, I set out the rationale for establishing it as follows:

The primary purpose was to detail the entire catalogue of Dave's music, recorded over eight decades, so that fans, music lovers, collectors, musicians and historians would have a database of all of his music, in one site.

The secondary purpose was to complement the Brubeck Collection, hosted at the Wilton Library, Connecticut, by providing biographical, image, media, video and memorabilia databases outlining Dave's musical life, based on what was in my own collection and those gathered from other sources. I also hoped to highlight Dave Brubeck the person, who was intolerant of prejudice and used his music to advocate for civil rights and racial unity.

I have few regrets in life but one is that I did not discover the music of Dave Brubeck, until much later on in life than I would have wished. The primary reason is that I was born in the early 1960's and thus missed the halcyon days of Jazz, that was the 1950's & 1960's.Some would state that this era was the pinnacle of Dave's career. The fact that I was born outside the US, across the pond, in a country where musical heritage is important but little is known of the Jazz genre, did not help.

During the latter days of the second millennium, I was trawling through some Internet radio Jazz stations late one night, having just begun to explore the Jazz genre. After a period of time "Tangerine", from the album, "Dave Brubeck In Europe" grabbed my attention. This was followed (no announcement of who was playing was made) with "The Way You Look Tonight" from "Jazz At Oberlin", "Lullaby de Mexico" from "Brubeck & Mulligan, Live At The Berlin Philharmonie" and finally "St Louis Blues" from "Moscow Night".

Over a period of half an hour or so I was totally captivated by this music, without knowing who was playing. Then the radio DJ announced the tracks, advising that they were hosting a two hour Dave Brubeck special. It's a cliché but that really was the music I had been waiting my whole life to hear.

That set me on a journey of musical discovery and the collection of all of Dave's music over ensuing years. I made up for lost time attending as many of his concerts on his European tours in the new millennium as I could.

I of course am not alone in telling this story. Thousands before me and thousands after me could tell variations of the same story, as to how and when they were first captivated by Dave's music. On Dave's passing there were numerous blog entries from fans all over the world, detailing how Dave's music formed such an important part of their life's, or for some changed it. My hope is that this website will assist in preserving Dave's legacy, and in some small part play a role in current and future generations discovering his music, like thousands others did.

As a completist I often discovered some rare musical and memorabilia gems. For the best part of ten years I corresponded and shared some of these items with Dave and Iola; a copy of an old radio broadcast or perhaps some old images I had discovered. It never ceased to amaze me that for people who had action packed schedules, that Dave and Iola always found time to correspond and thank you for the correspondence you had sent. Dave would discuss the current and future musical "projects", as he called them, and there was always numerous on the go at any one time. That set him apart from so many other musicians in that he was so generous of his spare time for his fans; if you were lucky enough to meet him (as I was), after a concert he was always happy to sign autographs and share a few moments with you.

The idea for this website had been with me for some but it wasn't until late 2011 that I had time to devote to developing it. I wrote to Dave and Iola who were enthused with the idea and gave me great encouragement to proceed. I had hoped to have the project finished within a year but the website developed into areas I never anticipated. I regret Dave never got the chance to see it finalised,but I am very grateful for the encouragement he gave me to start and develop it .

This is a website for everybody. If you have landed here, then it is likely you are already a fan. If you have some images of Dave Brubeck concerts or programs or memorabilia, not already detailed on this site, and believe it would benefit from their presence then please get in touch with me through the "Contact" section, and I wil be happy to include them.

A website of this magnitude is impossible for one person to research and develop without there been factual or typographical errors. If you spot them, please do contact me and I will correct them. As I am European, the spellings I used are thus non American. However all articles copied or quotes remain in their original version so you will see American spellings as well, where relevant.

Dave Brubeck once explained succinctly what jazz meant to him. "One of the reasons I believe in jazz is that the oneness of man can come through the rhythm of your heart. It's the same anyplace in the world, that heartbeat. It's the first thing you hear when you're born — or before you're born — and it's the last thing you hear." He further added that "Essentially, I'm a composer who plays the piano or I'm a pianist who is a composer. My piano playing is shaped by the material and ideas I'm trying to express. I continue to play jazz, because that's what I love most to do".
We are all grateful that Dave Brubeck continued to play jazz for as long as he did and that his wonderful legacy of recorded music can be enjoyed for generations to come.
John Bolger
December 2013