Oral History Projects
Gathered in this section are the known and available history projects that Dave and Iola have participated in.
They form a crucial and important part of documenting the life and career of Dave Brubeck.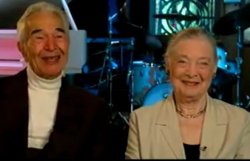 By far the far most extensive project Dave and Iola participated in was in 2007 when they gave extensive interviews to the University of The Pacific, Dave's alma mater and where his entire collection is housed for the the aim of assisting to preserve, promote and pass on the rich legacy of jazz to future generations.
Click on the various headings on the menu to the left access links to these projects.