Dave Brubeck Quartet's 'Time Out' at 60: Inside Jazz's First Million-Selling LP

12/13/2019 by Raj Tawney- Billboard ©
Released Dec. 14, 1959, Time Out wasn't 39-year-old Brubeck's first album nor was he an unknown at the time of its release. After a handful of moderately successful releases throughout the first half of the decade, mostly targeted toward college students, Brubeck found himself on the front of Time in 1954, making him only the second jazz artist behind Louis Armstrong to grace the cover. Uncomfortable with his fame, Brubeck felt he was only receiving the adoration due to his skin color. His appearance -- that of a middle-class, well-groomed white male -- provided him with a wider appeal to the predominantly white mainstream than leading African American jazz artists like Miles Davis or Duke Ellington. Brubeck refused to use race as a safety net, however; he never stopped working with both white and black musicians for the duration of his career, despite industry pushback.
Prior to recording Time Out in the summer of 1959, Brubeck and his bandmates had no intention of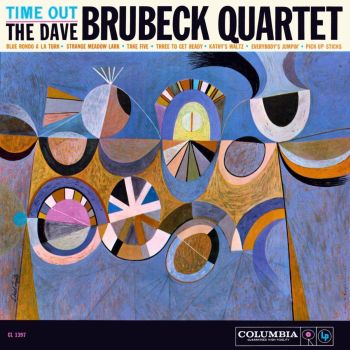 creating a commercially viable record. Only a year prior Brubeck, alto saxophonist Paul Desmond, bassist Eugene Wright and drummer Joe Morello had completed a world tour funded by the United States Department of State, performing 80 concerts in over 14 countries, including Turkey, Poland, Iraq, Afghanistan, India, Sri Lanka and Pakistan. The tour's mission was to showcase American ideals and its racially inclusive sentiments -- a falsity the band would come to experience while traveling domestically in the early '60s. Even so, the band marveled at local musicians while overseas -- particularly Turkish street performers playing traditional folk songs in varying rhythms.
The amalgamation of international styles influenced the group to experiment with unfamiliar sounds, unconventional pacing and uncommon time signatures for an upcoming album. Apprehensive about supporting an ambitious and financially risky project, Columbia Records backed the production and release of Time Out but first asked the Quartet to record an album with a more digestible appeal for American audiences. The result was Gone with the Wind, a collection of songs honoring the sound of the American South, including standards "Ol' Man River," "Georgia on My Mind" and "Camptown Races." This irony would prove evident as the racially integrated Quartet faced backlash from concert promoters and universities in the South, some demanding they replace African American bassist Eugene Wright. When Brubeck refused, they were forced to cancel numerous performances, foregoing significant revenue in the process. Even a television appearance on the Bell Telephone Hour was lost due to producers' demands, but Brubeck stuck to his beliefs.
During the production of Time Out, the band explored with unusual, non-common time signatures, writing compositions beyond 3/4 and 4/4 and experimenting with polyrhythms within each song. "Blue Rondo à la Turk," a rendition of Mozart's "Rondo alla Turca," was written in an uneven 9/8 time pattern, emulating the rhythms Brubeck heard on the streets of Turkey. All of Time Out's songs were composed by Brubeck except the composition of "Take Five" by Paul Desmond, written in 5/4 time. Although not a smash at the time of its initial release, "Take Five" would become the first million-selling jazz single and reach No. 25 on the Billboard Hot 100, but not until Oct. 9, 1961 on the album's reissue.
Time Out remains one of the most acclaimed albums in jazz history. Timing was crucial as the record's release coincided with the growing Civil Rights Movement, accessible jet travel in the United States that opened up the world to new cultures and the competitive yet fertile scene of jazz artists pushing one another to reimagine the genre and its direction. The clean-cut Brubeck may have been a mild-mannered mid-century musician, yet he was anything but a company man willing to bow to the pressures of his time. He was an ambassador of tolerance through creativity, risking business opportunities in order to honor his band and personal ethics.
Six decades later, Time Out's legacy resonates as a testament to open-mindedness and a willingness to draw inspiration from any and all corners of the world. In other words, it's timeless.