The Real Ambassadors

Keith Hatschek (2022)


Publishers: University Press Of Mississippi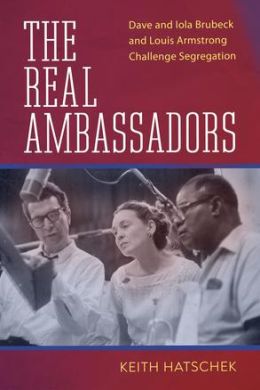 Press release

On September 23, 1962, The Real Ambassadors's stunning debut moved a packed arena at the Monterey Jazz Festival to laughter, joy, and tears. Although critics unanimously hailed the performance, it sadly became a footnote in cast members' bios. The enormous cost of reassembling the star-studded cast made the creation impossible to stage and tour. However, The Real Ambassadors: Dave and Iola Brubeck and Louis Armstrong Challenge Segregation caps this jazz story by detailing how the show was triumphantly revived in 2014 by Jazz at Lincoln Center. This reaffirmed the musical's place as an integral part of America's jazz history and served as an important reminder of how artists' voices are a powerful force for social change.
Reviews

"With well-researched details and clear-eyed passion, Hatschek relates the story of the Brubecks' creation, of the stars it brought into alignment (Louis Armstrong; Carmen McRae; the vocal trio Lambert, Hendricks and Bavan; and others), and of the social context of the early 1960s, and the timeless relevancy of its message. The story of The Real Ambassadors remains one of the most compelling chapters in the annals of music yet has been in danger of fading away. Hatschek's book pulls it back into the spotlight, righteously explaining its enduring significance."
Ashley Kahn, music historian and author of A Love Supreme: The Story of John Coltrane's Signature Album


"Keith Hatschek provides a masterful and fascinating chronicle of the social activism of Dave and Iola Brubeck. Most are familiar with Dave Brubeck the jazz pianist, band leader, and prolific composer who provided the soundtrack of our lives for decades. The Real Ambassadors documents the power of art for social change and Brubeck's fearless advocacy for integration."
Monika Herzig, jazz pianist, composer, and author of Experiencing Chick Corea: A Listener's Companion


"This book is an engaging and thoroughly researched tale that takes the reader inside the hearts and minds of Dave and Iola Brubeck during their five-year struggle to bring The Real Ambassadors to the stage. It establishes the musical as an indelible, if long-overlooked, part of American jazz history, while also underscoring the power and influence that the democratic art of jazz can have in effecting positive change in our country and around the world."
- Nick Phillips, Grammy-recognized jazz record producer

"An inspiring story that places Dave and Iola Brubeck and Louis Armstrong at the center of jazz musicians' fight in the 1950s and '60s to overturn the impact of Jim Crow. It presents a shining example of the role of the artist citizen, a role that continues to be relevant today."
Nnenna Freelon, six-time Grammy-nominated jazz vocalist/recording artist
"Dave and Iola Brubeck's musical The Real Ambassadors was decades ahead of its time, and though few paid attention to it at the time of its creation, its message feels even more relevant today than it ever did before. Keith Hatschek has dedicated over a decade of his life to researching this groundbreaking work, and his book, The Real Ambassadors: Dave and Iola Brubeck and Louis Armstrong Challenge Segregation, is the definitive story of an overlooked masterpiece. Anyone interested in the intersection of jazz, politics, and race, the impact of the jazz ambassadors' State Department tours during the Cold War, and the inspiring, larger-than-life stories of seminal icons such as Dave Brubeck and Louis Armstrong, need to read this book."
Ricky Riccardi, Director of Research Collections at the Louis Armstrong House Museum and author of Heart Full of Rhythm: The Big Band Years of Louis Armstrong and What a Wonderful World: The Magic of Louis Armstrong's Later Years

"The Real Ambassadors is a story worth telling, and Keith nails it with great detail. It was a historic moment in time, and the Monterey Jazz Festival was proud to play a role in its premiere presentation."
Tim Jackson, artistic director of the Monterey Jazz Festival


Jazz Diplomacy: Promoting America in the Cold War Era.
Lisa E. Davenport (2009)
Jazz as an instrument of global diplomacy transformed superpower relations in the Cold War era and reshaped democracy's image worldwide. Lisa E. Davenport tells the story of America's program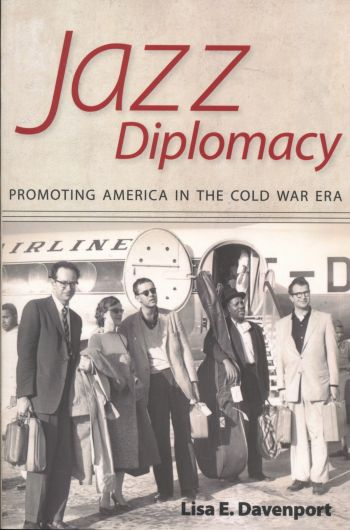 of jazz diplomacy practiced in the Soviet Union and other regions of the world from 1954 to 1968. Jazz music and jazz musicians seemed an ideal card to play in diminishing the credibility and appeal of Soviet communism in the Eastern bloc and beyond.
Government-funded musical junkets by such jazz masters as Louis Armstrong, Dave Brubeck, Duke Ellington, Dizzy Gillespie, and Benny Goodman dramatically influenced perceptions of the U. S. and its capitalist brand of democracy while easing political tensions in the midst of critical Cold War crises. This book shows how, when coping with foreign questions about desegregation, the dispute over the Berlin Wall, the Cuban missile crisis, Vietnam, and the Soviet invasion of Czechoslovakia, jazz players and their handlers wrestled with the inequalities of race and the emergence of class conflict while promoting America in a global context. And, as jazz musicians are wont to do, many of these ambassadors riffed off script when the opportunity arose.

Jazz Diplomacy argues that this musical method of winning hearts and minds often transcended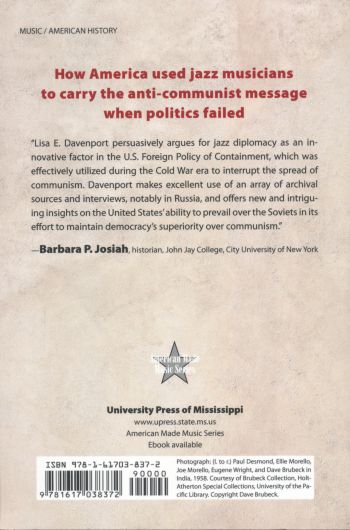 economic and strategic priorities. Even so, the goal of containing communism remained paramount, and it prevailed over America's policy of redefining relations with emerging new nations in Africa, Asia, and Latin America.
Review
"Lisa E. Davenport persuasively argues for jazz diplomacy as an innovative factor in the U.S. Foreign Policy of Containment, which was effectively utilized during the Cold War era to interrupt the spread of communism. Davenport makes excellent use of an array of archival sources and interviews, notably in Russia, and offers new and intriguing insights on the United States' ability to prevail over the Soviets in its effort to maintain democracy's superiority over communism."
Barbara P. Josiah, historian at John Jay College, City University of New York





French Music and Jazz in Conversation (2016)
Deborah Mawer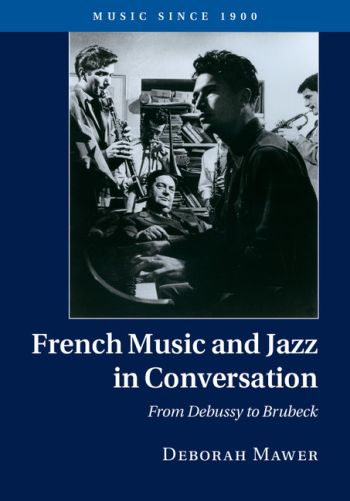 French concert music and jazz often enjoyed a special creative exchange across the period 1900-65. French modernist composers were particularly receptive to early African-American jazz during the interwar years, and American jazz musicians, especially those concerned with modal jazz in the 1950s and early 1960s, exhibited a distinct affinity with French musical impressionism. However, despite a general, if contested, interest in the cultural interplay of classical music and jazz, few writers have probed the specific French music-jazz relationship in depth.
In this book, Deborah Mawer sets such musical interplay within its historical-cultural and critical-analytical contexts, offering a detailed yet accessible account of both French and American perspectives. Blending intertextuality with more precise borrowing techniques, Mawer presents case studies on the musical interactions of a wide range of composers and performers, including Debussy, Satie, Milhaud, Ravel, Jack Hylton, George Russell, Bill Evans and Dave Brubeck.
Reviews
"This is the book for which jazz scholarship has long been waiting: at last, the hugely significant interactions between jazz and modern concert music have been unravelled with the insight, technical understanding and contextual awareness they deserve. Professor Mawer delves deeply into this two-way process in a series of fascinating case studies which celebrate some of the most exciting and far-reaching musical cross-fertilizations of the twentieth century."
Mervyn Cooke, Professor of Music, University of Nottingham
"At once an important survey of French music and jazz history, Mawer's book also brilliantly draws attention to the compelling cross-references and interactions between these worlds. The theoretical sophistication of the academy seamlessly merges with the dynamism of a jazz club, and the resulting mix has the intellectual and musical power of both."
Michael Beckerman, Carroll and Milton Petrie Professor of Music, New York University