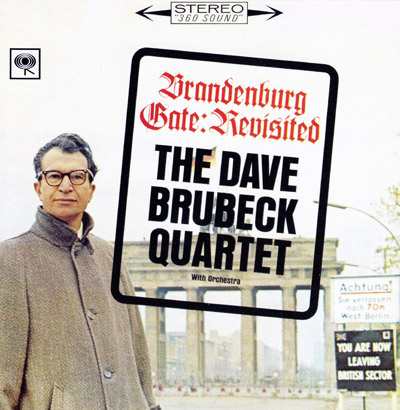 Other Album Covers & Images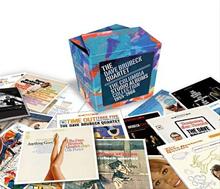 2010 5 CD package set - Original Album Classics - Sony/BMG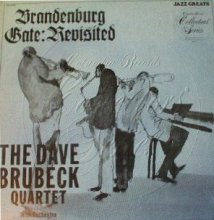 "Jazz Greats - Collector Series" album cover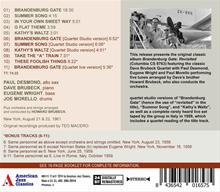 American Jazz Classics - CD release - back cover
Label:
Columbia


Year:

1963


Released on LP:

Yes


Released on CD:

Yes
Tracks
1. Brandenburg Gate
2. Summer Song
3. In Your Own Sweet Way
4. G Flat Theme
5. Kathy's Waltz


Personnel
Dave Brubeck
(piano)
Paul Desmond
(alto sax)
Joe Morello
(drums)
Eugene Wright
(bass)
Howard Brubeck
(conductor)
Notes
1. Recorded in 1961 with Symphony Orchestra, Max Pollikoff concertmaster and Howard Brubeck, conductor.

2. Released as CD in mini LP format in Japan under the "Sony Master Sound" series - Sony Records SRCS 9525.

3. Included in the Columbia Legacy release in 2011 – "The Dave Brubeck Quartet - The Columbia Studio Albums Collection 1955 - 1966" - 19 albums packaged in a replica mini-LP sleeve.

4. Included in the 2010 5 CD package set - Original Album Classics - Sony/BMG - Germany

1. Jazz Goes to College
2. Gone with the Wind
3. Brandenburg Gate: Revisited
4. Jazz Impressions of New York
5. Brubeck Plays Brubeck

5. Released in 2013 by American Jazz Classics that includes 6 bonus tracks

Brandenburg Gate - from Jazz Impressions of Eurasia
Summer Song - from Time Out
Kathy's Waltz - from Jazz Impressions of USA

plus a rarely heard live set taped by the group in Italy in October 1959, which includes a quartet reading of the title track.

Take the "A" Train
These Foolish Things
Brandenburg Gate

These last 3 tracks were released on the bootleg albums

Four Star FS-40086 "These Foolish Things"
Moon Records MCD-052-2 "Take The "Five " Train"





Reviews
All About Jazz Review

Brandenburg Gate: Revisited was Brubeck's 1961 collaboration with his brother Howard, who orchestrated Dave's Bach-like "Brandenburg Gate" into a suite of 18-and-a-half minutes, a voyage in the third stream. Howard Brubeck's melding of strings and classical forms with the quartet took into account the nature of the jazz players and their instruments. Consequently, there was little of the heavy-handedness or boredom that doom many such ventures.

The Brubecks' treatment of "Brandenburg Gate" points up the universality of the cycle-of-fifths harmonies that also inspired John Lewis' "Django" and the Pachalbel canon, among hundreds of other compositions. There is a lovely section of the intuitive counterpoint that was a trademark of Brubeck's partnership with Desmond. The album has orchestrated versions of four other Brubeck tunes, with Desmond particularly inspired on "In Your Own Sweet Way."

Doug Ramsey

© Copyright All About Jazz



All Music Guide – Review – copyright

Four of the five selections on Brandenburg Gate: Revisited (1963) are new interpretations of Dave Brubeck (piano) classics scored by the pianist's older sibling, Howard Brubeck, who is likewise the author of the "G Flat Theme," which is offered here for the first time. By the time of this 1963 platter, the perpetually touring Dave Brubeck Quartet had played behind a few of the North America's finest ensembles -- commencing with a personal invitation extended by Robert Shaw and the San Diego Symphony in 1956. In fact, these expanded arrangements were actually done live before they were recorded in the studio. A similar fate befell material from Brubeck Plays Bernstein Plays Brubeck (1960), which was the Quartet's earlier orchestral collaboration.

"Brandenburg Gate" has been significantly expanded from the version heard on Jazz Impressions of Eurasia (1958). The selection has developed into a side-long suite that includes substantial emotive counterpoint connecting the moody and contemplative strings and the swinging melodic contributions of Paul Desmond (alto sax), Eugene Wright (bass), and Joe Morello (drums). The subtle tension and liberation that exists between the two arguably disparate aggregates prevent either from overpowering the other. Likewise, spirited leads and improvisations from Brubeck and Desmond keep the elaborate piece agile and firmly rooted in jazz. "Summer Song" is given a stately update, reflecting the easygoing nature of the Jazz Impressions of the U.S.A. (1956) reading.

Desmond once again reels off impressive lines that never detract from the tastefully understated string augmentation. The affective "In Your Own Sweet Way" has evolved from the piano solo that initially graced Brubeck Plays Brubeck (1956). The accompaniment is pronounced as it wafts beneath Brubeck's spontaneous chord progressions and nimbly executed keyboarding. As previously mentioned, "G Flat Theme" is the only tune debuted on Brandenburg Gate: Revisited. What begins as dark and melancholy dissipates into a mid-tempo groove that drives both Brubeck and Desmond into some very interesting spaces as they quickly adapt their sound to the slightly noir, but highly memorable chorus. "Kathy's Waltz" benefits from a more thorough examination, as compared to the Time Out (1959) rendering.

There is a stately air present on this interpretation that remains conspicuously discreet on the more familiar outing. On the whole, of all the reworkings this one seems to be the most rewarding, especially as Desmond is backed with the lush full-bodied orchestra.

Lindsay Planer

© Copyright Rovi Corporation

Back to recordings