09 July 2016
Wondeful Stockton mural by Anthony Padilla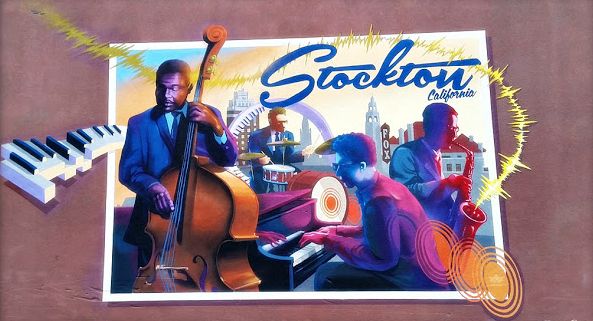 Review
Jul 9, 2016
By Lori Gilbert
Record.net Staff Writer

His first "public art" was done in the cover of darkness, a 16-year-old with a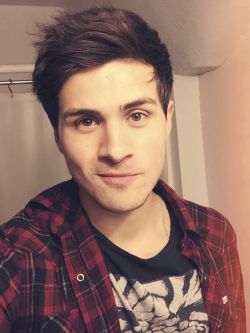 spray paint can creating a monkey on a wall behind a saloon.

The city of Sacramento painted over what was considered "graffiti," but the bar owner hired the artist, Anthony Padilla, to repaint the wall on his dime.

Padilla, now 39, hasn't stopped painting on walls since and just completed the first Stockton Postcard mural, sponsored by the Downtown Stockton Alliance.

His masterpiece, on the north wall of the Kress Building, features the Dave Brubeck Quartet with bass player Eugene Wright prominently in front.

Most people in Stockton know the story of Brubeck, the great jazz musician who studied at College of the Pacific and gave us "Take Five."

Padilla, who is based in his hometown of Sacramento, once saw Brubeck perform in Stockton. But when he pitched his mural idea, he found a lesser known story to share.

"He's the biggest name that has to do with music from Stockton," Padilla said. "When I did research, I found some interesting things about how he had a black bass player, and back when he was touring around colleges, a lot of colleges wouldn't let the bass player play. They wanted him to get a new bass player, but Dave Brubeck wouldn't let that happen. (Brubeck cancelled 23 of 25 planned concerts at Southern universities in the late 1950s).

" He did his part to support Civil Rights by sticking with his bass player. One situation, I think in Alabama where his band was going to play, there was a riot because the dean said he didn't want the bass player. Then the dean agreed, but said to put the bass player in the background. So, Dave Brubeck's band did that, but when it was time for the bass player's solo, he had him come out front to do the solo and the crowed went crazy. It probably wasn't caught on film, but it's a cool story and I integrated that into my design. I like telling a story with my art."

The image Padilla created shows the bespectacled Brubeck at the piano, Paul Desmond, on alto saxophone, and Joe Morello on drums with Wright out in front playing his bass. Musical notes seem to fly off the wall. Close your eyes and you can hear "Take Five" by the quartet that recorded it.

"I loved it," said Dan Cort, owner of the Kress Building, whose company did a photo shoot in front of the mural. "It not only makes the building reach out, it makes all our hearts fulfilled to see that kind of work on a building."

Not exactly thrilled with all wall murals he's seen, Cort worked closely with the Downtown Stockton Alliance in selecting an artist to paint on the Kress Building.

Of all the submissions for the postcard mural project — it went through committees of city leaders, state leaders, arts leaders and alliance workers — Padilla's ranked first or second with each one.

"He has such a great resume, on top of (his proposal), of completing previous projects," said Cindi Fargo, executive director of the Downtown Stockton Alliance. "That total picture made us select him for one of the first two murals."

Because he works with spray paint, Padilla is quicker than artists who mix paint and apply with a brush. He whipped out the spectacular postcard in about a week. He's going to return to add "California" to the Stockton identity, but otherwise, the piece is done.

It's another of the more than 100 commissioned pieces by the self-taught artist and graphic designer. He was bitten by the creativity bug, he said, when he was in preschool and painted a dinosaur walking across the desert with watercolors. At 12, his aunt bought him an airbrush and paid for him to take lessons. It wasn't long before Padilla realized he could work faster, and cover a bigger space, with spray paint.

While working at a Round Table Pizza restaurant as a teenager, Padilla discovered the sprayer used to apply oil to pizza pans to keep the dough from sticking came out in a neat, tight stream when held close to the pan but covered a broader area when held far away. He took one of the nozzles, put it on his paint can and began creating the kind of intricate, detailed work now on the Kress Building.

He buys his paints from Spain, he said, because companies in Europe cater to artists in a way American companies don't.

American companies weren't the only ones slow to recognize the value of spray paint as an art form. So were Americans.

"When I was growing up I was a victim of that whole movement," Padilla said.
At 21 he was charged with felony conspiracy to paint on a freight train. He pled no contest and spent "between $15,000 and $20,000" so he could leave for a planned trip to spray paint in Europe. He decorated walls in Amsterdam, Germany and elsewhere.

"Now, graffiti isn't looked on as public enemy No. 1," Padilla said.

His contribution to the Downtown Stockton Alliance isn't exactly graffiti. It's done with spray paint, but it rivals any painting you'd see in a museum.

He's a singular talent, much in demand. He has other commissions on his plate and his latest projects are solar powered art works that create energy to light parks and charge cellphones.

He dreams of creating a massive piece, maybe 40 feet by 20 feet, of the male and female spirit that reflect mother nature and technology.

We're lucky he found time to bid on the Stockton postcard project. His contribution to the community is priceless, and if Cort has his way, won't be his last.

He's considering having more images painted on higher levels of the Kress Building.

"If we do, he's the one who will do it," Cort promises. "We saw a lot of artists, and many of them were talented, but there are very few at the level he is and the way he does it. He's very impressive."