07 May 2015
Ron Crotty, Bassist, 1929-2015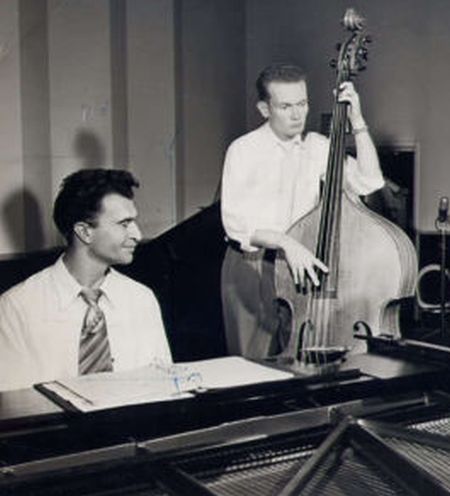 Ron Crotty, the original bassist of the Dave Brubeck quartet has died.
Ron was the bassist in the Dave Brubeck Trio of the late 1940s and early '50s and the quartet that Brubeck and Paul Desmond formed in 195l. He appeared on the cover of Brubeck's celebrated Jazz at Oberlin from 1953.
From AMG
Born in San Francisco, Ron Crotty is often associated with jazz happenings in the hilly city. One of the most famous independent recording labels from Frisco, Fantasy, made an album of Crotty's own trio a reality and called the LP Modern Music from San Francisco. Tracks from this session, featuring the participation of Latin jazz pianist Vince Guaraldi, also made it onto a Fantasy compilation entitled The Jazz Scene: San Francisco. In 2004, Crotty worked a series at the Oakland Museum with a shifting cast of pianists, including the ecstatic Bliss Rodriguez.
A portion of Crotty's career in which he apparently interacted with the British jazz scene resulted from Uncle Sam's marching orders. The bassist's firmly bright sense of timekeeping, polished to a precision point through untold hours with Ray Brown and Jimmy Blanton recordings, was a welcome beacon to British jazz players attempting to make sense out of modern jazz in the '40s and '50s. The bassist was important to Brubeck, who utilized him in the very first of his trios, the third member being vibraphonist Cal Tjader. Crotty's best-known recordings with Brubeck include several college dates taped live during tours in the '50s.