21 November 2019
New book released on Dave Brubeck's - Time Out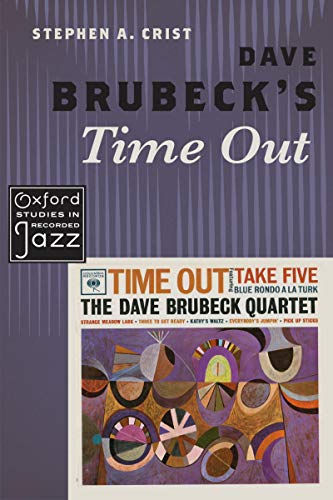 From Amazon website:

Dave Brubeck's Time Out ranks among the most popular, successful, and influential jazz albums of all time. Released by Columbia in 1959, alongside such other landmark albums as Miles Davis's Kind of Blue and Charles Mingus's Mingus Ah Um, Time Out became one of the first jazz albums to be certified platinum, while its featured track, "Take Five," became the best-selling jazz single of the twentieth century, surpassing one million copies. In addition to its commercial successes, the album is widely recognized as a pioneering endeavor into the use of odd meters in jazz. With its opening track "Blue Rondo à la Turk" written in 9/8, its hit single "Take Five" in 5/4, and equally innovative uses of the more common 3/4 and 4/4 meters on other tracks, Time Out has played an important role in the development of modern jazz.

In this book, author Stephen A. Crist draws on nearly fifteen years of archival research to offer the most thorough examination to date of this seminal jazz album. Supplementing his research with interviews with key individuals, including Brubeck's widow Iola and daughter Catherine, as well as interviews conducted with Brubeck himself prior to his passing in 2012, Crist paints a complete picture of the album's origins, creation, and legacy. Couching careful analysis of each of the album's seven tracks within historical and cultural contexts, he offers fascinating insights into the composition and development of some of the album's best-known tunes. From Brubeck's 1958 State Department-sponsored tour, during which he first encountered the Turkish aksak rhythms that would form the basis of "Blue Rondo à la Turk," to the backstage jam session that planted the seeds for "Take Five," Crist sheds an exciting new light on one of the most significant albums in jazz history.
Reviews:

"Crist's engagingly written musicological tour de force takes us behind the scenes of a landmark jazz album. All of Dave Brubeck's many fans ought to take some time out to read this fascinating book." -- Benjamin Givan, author of The Music of Django Reinhardt.
"We needed this monograph on one of the most famous jazz albums ever! Crist has drawn on extensive private correspondence to illustrate Brubeck's efforts at self-promotion, his involvement in civil rights, and more. One gets to be a fly on the wall during the recording process, take by take, and to analyze each piece in detail, with ample musical notation." -- Lewis Porter, jazz pianist, author, and Professor Emeritus of Music, Rutgers University at Newark.

About the Author

Stephen A. Crist is Professor of Music History at Emory University. He works largely in European music of the sixteenth through the eighteenth centuries, with additional interests in hymnody and jazz. He served as contributing editor of Bach Perspectives, Volume 5: Bach in America and contributing co-editor of Historical Musicology: Sources, Methods, Interpretations. His publications on Dave Brubeck have appeared in the Journal of Musicology and elsewhere, and a new study of the Modern Jazz Quartet's reception of the music of J. S. Bach is forthcoming in Bach Perspectives, Volume 13.