27 October 2017
New Dave Brubeck biography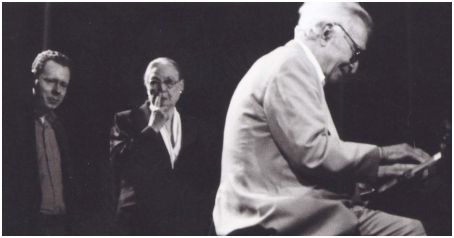 A new Dave Brubeck biography is to be published in the Spring of 2019 by Da Capo Press by UK music journalist Philip Clark who has had several pieces published about Dave Brubeck in the past.

Philip has written about classical music, modern composition, jazz, free improvisation and rock music for many leading publications including The Wire, Gramophone, MOJO, Jazzwise and The Spectator and numerous prestigious UK newspapers.

The book will be framed around a series of interviews Philip did with Dave in 2003 during the DBQ's UK tour and will reflect on all aspects of his long and varied career.

Philip, a major Dave Brubeck fan himself stated "The completion of this project has been a long-cherished ambition; Dave was the reason I became a musician and so much of my professional life has revolved around his work. This was a book that I talked to Dave and Iola about. It will fulfil the need, I hope, for an exhaustive study of the great man and his work."

Philip is pictured above at a pre concert sound check at Southend, UK, in 2003 with Dave and Iola Brubeck.
More can be read about Philip here.