31 December 2020
Eugene Wright passes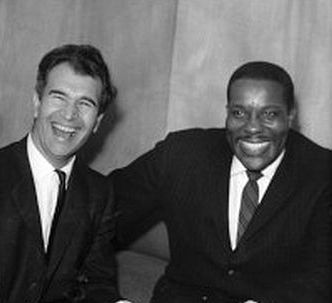 Announcement on Dave Brubeck Facebook page.
We are deeply saddened to learn of the passing of bassist Eugene Wright yesterday at the age of 97. Gene was the last surviving member of the "Classic" Dave Brubeck Quartet, and remained a good friend and honorary Uncle to the Brubeck family to the end.
Known by the jazz community as "The Senator", Gene was born in Chicago, IL on May 29, 1923. He studied cornet in school and taught himself how to play upright bass. In his early career, Gene led his own band, the Dukes of Swing, and played with the Lonnie Simmons group.
Gene played bass in The Dave Brubeck Quartet for many years, joining the group for their U.S. Department of State tour of Europe and Asia in 1958 and becoming a permanent member the following year. He left the Quartet in 1968 when Dave disbanded the group to pursue his career as a composer, but Gene performed with Dave off and on for many years afterwards, including the famous 1988 Joint State Dinner organized by President Reagan and Secretary Gorbachev in Moscow.
Gene performed with the world's best jazz musicians, including Billie Holiday, Charlie Parker, Count Basie, Charlie Parker, and Carmen McRae. In the 1970s, he recorded film soundtracks and worked in television studios. He served as head of the Jazz Department at the University of Cincinnati and was head of the advisory board in the jazz division of the International Society of Bassists.
We remember the challenges Gene and the Quartet had to undergo in order to play at segregated universities on their US tours in the early 1960s.
Dave recalled:
"I wasn't allowed to play in some universities in the United States and out of twenty-five concerts, twenty-three were cancelled unless I would substitute my black bass player for my old white bass player, which I wouldn't do.
"They wouldn't let us go on with Gene [Wright] and I wouldn't go on without him. So there was a stalemate and [we were] in a gymnasium, a big basketball arena on a big campus. And the kids were starting to riot upstairs. So the President of the school had things pushing him from every side: The kids stamping on the floor upstairs, me refusing to go on unless I could go on with my black bass player.
"So we just stalled and the bus driver came and said, 'Dave, hold out. Don't go on. The president is talking to the governor and I think things are going your way.' And the Governor says, 'You'd better let them go on.'
"So we held on and the president of the college came in and he said, 'Now you can go on with the understanding that you'll keep Eugene Wright in the background where he can't be seen too well.' And I told Eugene, 'Your microphone is off and I want you to use my announcement microphone so you gotta come in front of the band to play your solo.'
"Well the audience went crazy. We integrated the school that night. The kids wanted it; the President wanted it; the teachers wanted it. The President of the college knew he might lose his funding from the state.
"So here's the reason you fight is for the truth to come out and people to look at it. Nobody was against the Quartet's black bass player. They cheered him like he was the greatest thing that ever happened for the students. Everybody was happy.
"My point is those students had hired me in twenty-five universities. And twenty-three had to cancel because of what they thought they would lose from the state government. But they wouldn't lose it. We went back and played all of those schools in a few years. And we've had a lot of terrible things happen to us while we're fighting to have equality — police escorts from the airport to the university, or where I wouldn't go on [stage] until the black audience could come in or [until they] didn't have to sit in the balcony. I wouldn't play until they were in the front row. You gradually stop all these ridiculous old rules that nobody really believes in."
Chris Brubeck - Facebook

I was very sad to get the news this morning that "Senator" Eugene Wright had passed last night (December 30th, 2020.) I have known Gene since I was 6 years old. The first thing that I liked about him was that he had such a cheerful disposition. He was generous with his time to us younger Brubecks and he never acted like talking to us kids was any kind of bother at all…just a joyful exchange. I also was attracted to his bass playing, and spent many hours under my father's piano next to Gene's bass, absorbing his groove. He was a HUGE influence in my development of the concept of how to function as a bass player in a jazz group.
Gene was never looking for individual glory, his highest accolade was to be mentioned as a part of the rhythm section that really swung. I saw him win over many, many audiences all over the world with his soulful bass playing and great vibes. In a group combining the polyrhythmic influences of Joe Morello and my dad, as well as Dave's polytonality, Gene regarded his mission as "holding the fort." He was the ultimate team player and an under-appreciated aspect of why the Classic Quartet was such an amazing and highly regarded jazz group.
My wife Tish and I stayed in touch with Gene and visited over the years. He outlasted my father and played a duet on "King for a Day" with my brother Darius at our father's concert memorial service at St. John the Divine in 2013. Gene and I played together in Moscow for the Reagan/Gorbachev Summit in 1988. We also shared the dais for a panel discussion about the Dave Brubeck Quartet at the Monterey Jazz Festival a few years ago. He always referred to me as his "Godson" and perhaps he had given other young players of my generation who looked up to him the same title. I'm not sure, but I wore the nickname with pride because I was honored to be associated with Gene. He was a joyful presence in our lives from 1958 onward and my parents deeply respected and loved him. I am sure his "glass is half-full" attitude extended the longevity of the Quartet. Gene really enjoyed his life and lived it to the hilt. His "joie de vivre" was infectious.
To quote my sister Cathy who wrote me after hearing the news of one of my heroes' passing: "Gene had such an open and generous, humorous way of viewing the world and his place in it. He always seemed grateful for the life he was leading. And that's how I will always remember him. I am thankful he had a wife he adored, and a career he could be so proud of. As souls live on in some other afterworld state, I'm sure the party he envisioned has already begun. He will be received with wide and welcoming arms by many! The Senator has arrived!"
I have to say I agree - I think that great heavenly jam session has started. God Bless you "Senator" Eugene Wright, and thanks for making the world a better place. Love your Godson, Chris