02 May 2015
Dan Brubeck Honors His Parents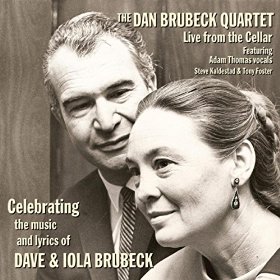 On the eve of his 60th birthday, Dave and Iola Brubeck's drummer son releases his first album as a leader. A tribute to his parents, it is also a revelation of the quality of musicians in his adopted hometown, Vancouver, British Columbia.
With his work in his father's quartet, Two Generations of Brubecks, the Brubeck Brothers Quartet, Larry Coryell and the Dolphins, Dan Brubeck established decades ago that he was an extraordinary drummer. Barely into his twenties, he substituted for Joe Morello when Morello's worsening eyesight forced him to leave the Dave Brubeck Quartet's 25th anniversary reunion tour. Young Brubeck's firm time and light touch made him a favorite of DBQ saxophonist Paul Desmond, who was exacting in the qualities he expected in drummers.
In Vancouver, Brubeck recorded with his quartet at The Cellar four months before the club closed in late 2013. All of the 14 pieces they performed were by Dave Brubeck, many of the songs with words by Iola. Dan Brubeck writes in his liner notes that bassist Adam Thomas sings, "…completely in tune, phrasing beautifully, with a soulful sweetness, all while swinging his ass off on bass." That's an accurate evaluation of Thomas's bass work. In an instance or two, demanding melodic intervals put a bit of strain on his voice, but he sings "Summer Song" "Ode to a Cowboy," "Strange Meadowlark," even the metric challenges in "It's A Raggy Waltz," with élan and a subtle jazz-wise edge. He conveys the implications of tragedy and hope in the lyric Dave wrote to "Weep No More" following his World War Two Army service in Europe.
To one not familiar with the current Vancouver jazz scene, Thomas comes as a surprise, as do saxophonist Steve Kaldestad and pianist Tony Foster, who avoid attempts to emulate Desmond and Dave Brubeck. A hint of John Coltrane surfaces in Kaldestad's tenor playing but does not dominate it. His low register on the horn has remarkable resonance. On alto, his individuality is tempered with evidence that he may be familiar with Sonny Stitt. Foster's piano touch is light and he has impressive speed. He permeates with blues feeling his solo on "Lord, Lord" from Dave Brubeck's cantata The Gates of Justice.
At a Brubeck Brothers concert a few seasons ago, Chris Brubeck introduced his little brother with affection as "an animal on the drums." It is true that Dan has strength, intensity and power in his playing, and he displays all of it on this album, notably in his solo on "Take Five," the longest track in the two-CD set. He balances his aggressive side with the sensitive support of his brushes on the exquisite "Autumn In Our Town" and the album's other ballads.

The booklet accompanying the CD set includes lyrics to nine of the songs that Thomas sings. In addition to Dan Brubeck's essay, it has track-by-track commentary on the tunes; Iola wrote it shortly before her death in the spring of 2014. The booklet also has a selection of Brubeck family photographs.

A video made at The Cellar during the recording sessions that produced the album shows the quartet at work. It's a montage of pieces on the CD, with the exception of the opening drum solo and part of a Kaldestad tenor solo on Dave Brubeck's "Jazzanians."

The pieces in the Montage were "Jazzanians," "Ode to a Cowboy," "Autumn in Our Town," "Blue Rondo ala Turk," Strange Meadowlark" and "Take Five." The album was released on April 28th. Amazon has it as an MP3 album. CD Baby offers it as both MP3 and CD.
Doug Ramsey, Rifftides, award-winning blog of the international Jazz Journalists Association.
The CD is included in the "Recordings" section, here.