11 May 2013
A Celebration of the Life and Music of Dave Brubeck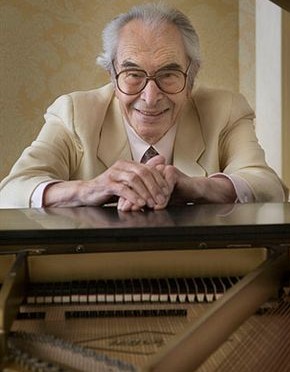 December 6, 1920 - December 5, 2012
A Celebration of the Life and Music of
Dave Brubeck
Saturday, May 11, 2013, 4:00 P.M.
"A Celebration of the Life and Music of Dave Brubeck" was held on Saturday, May 11, 2013 at 4:00 P.M.at The Cathedral Church of St. John the Divine, 1047 Amsterdam Avenue in New York City.

Below is an article by By CHARLES J. GANS , Associated press.

Family and friends celebrate Dave Brubeck's life

Jazz stars and family celebrate legend Dave Brubeck's life and music at special tribute.

NEW YORK — A celebration of Dave Brubeck's life and music turned into an ode to joy as family, friends and fans paid tribute to the groundbreaking pianist and composer who became the best known ambassador of jazz to the world.

Brubeck died Dec. 5, a day before his 92nd birthday, and a private funeral was held near his home in Wilton, Conn., shortly afterward. On Saturday afternoon, the only Brubeck family sponsored tribute took place before more than 2,000 people at the Cathedral Church of St. John the Divine featuring performances by Chick Corea, Branford Marsalis, Roy Hargrove, Roberta Gambarini, Hilary Kole and other jazz stars.

Former President Bill Clinton, in a statement read by Brubeck's longtime manager Russell Gloyd, recalled being "utterly captivated" at age 15 after hearing Brubeck's quartet in concert and then going home to play "Take Five" until his lips gave out. "I consider myself lucky to have known Dave and to have experienced his music in such a profound way," Clinton said.

Iola Brubeck, the pianist's wife of 70 years and lyricist, opened the tribute by acknowledging the hundreds of letters she had received from people throughout the word in the five months since her husband's death.

"I noticed that one word 'joy' kept coming into those letters over and over," she said. "They expressed the deep joy his music had brought to their lives. I hope that this afternoon we can capture some of that joy."

Daughter Catherine Brubeck Yaghsizian shared warm memories of how her tired father would return home from a tour and relax by holding a jam session with his growing sons. She'd take part as a toddler by wriggling into a blue tutu her mother had given her and "twirling around trying to dance to the crazy time signatures."

Her dancing inspired her father to write "Kathy's Waltz," which ended up on his double-platinum 1959 album, "Time Out," which experimented with using odd time signatures in jazz. She then introduced her four musician brothers — Darius (piano), Chris (electric bass), Dan (drums) and Matthew (cello), who performed "Kathy's Waltz" and would appear in different configurations throughout the program.

Darius Brubeck recalled his father's 1958 State Department tour that he said "inspired a lasting interest in music from other cultures." Alto saxophonist Paul Winter and flutist Deepak Ram then performed Brubeck's "Koto Song" based on a Japanese scale, and later trumpeter Randy Brecker and saxophonist Paquito D'Rivera were the soloists on "The Golden Horn," which used a modal-like theme characteristic of Turkish music.

The most emotional moment came when bassist Eugene Wright, who turns 90 this month and is the last surviving member of the classic Brubeck quartet with alto saxophonist Paul Desmond and drummer Joe Morello — took the stage. Host Mark Ruffin of Sirius XM recalled the dignity displayed by the African-American bassist as the Brubeck quartet challenged racial segregation in the 1950s.

Wright performed a duet with Darius Brubeck on "King For A Day," a song written by Dave and Iola Brubeck for Louis Armstrong for their 1962 musical "The Real Ambassadors," which dealt with allegations of hypocrisy for the State Department using jazz musicians as symbols of democracy while the civil rights struggle was raging at home. Brubeck and Wright performed that same tune during a performance at the 1988 Reagan-Gorbachev summit in Moscow, which U.S. diplomats credited with helping break the ice at a tense moment in arms control negotiations.

The audience was also treated to a sneak preview of a recently discovered tape of Tony Bennett and Brubeck performing the standard "There Will Never Be Another You" at a 1962 White House-sponsored concert that will be released on CD this month. Bennett told the audience that on those few occasions he performed with Brubeck, "it was always spontaneous, always unexpected and never to be forgotten."

Other musical highlights included husband-and-wife pianists Bill Charlap and Renee Rosnes doing a four-handed version of "The Duke," Brubeck's tribute to mentors Duke Ellington and French composer Darius Milhaud; saxophonist Marsalis tenderly performing the romantic ballad "For Iola"; and pianist Corea doing a solo version of "Strange Meadowlark," a lesser-known tune from the "Time Out" album that Corea recorded with Gary Burton on their Grammy-winning "Hot House" CD.

Newport Jazz Festival founder George Wein, whose ties with Brubeck go back to 1952 when he introduced the unknown West Coast band at his Boston jazz club, closed the tribute by noting that Brubeck "had respect for everyone" and thanked Iola Brubeck for giving her husband "the support, love and strength that every great man needs."

Starting in 1955, Brubeck ended up playing the Newport festival more than any other musician, and the celebration ended with trumpeter Jon Faddis and Chris Brubeck on trombone blowing up a storm on "Blues For Newport," a tune Brubeck composed backstage at the festival.


Here is a link to a piece written by Doug Ramsey in his Rifftides website about attending the service.
Here is a link to some wonderful photographs taken by Richard Conde.
For a lovely piece written by Margaret Diehl, for her blog "Mostly in the Afternoon" go here.

Here is a piece by the Huffington Post .