13 December 2021
Jam session in India - 1958.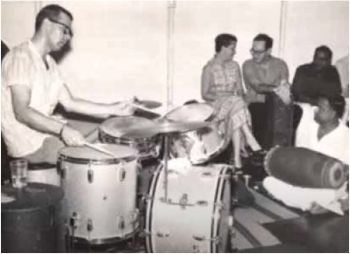 I have posted to the Video section a wonderful and very rare radio recording from 1958 during the Dave Brubeck Quartet world state sponsored tour.
It is of a jam session with Palani Subramaniam Pillai playing the Mridangam initially and is then joined by an enthusiastic Joe Morello and later Dave Brubeck.

Click here for video.
Here is an extract from "The Music Aficionado" on the creation of "Time Out" first published in 2019
©
"Various accounts tell different stories about the origin of Take Five, but they all point to Joe Morello's musical experiences in India. Some say Indian jazz drummer Leslie Godinho introduced him to the rhythm, others identify mridangam (a double sided Indian hand drum) maestro Palani Subramania Pillai as the one who did the trick. Either way, it is certain that the complexity of Indian rhythms played a major role in Morello's playing of the Take Five groove, one of the most addictive and best known drum patterns ever to be recorded. More from Desmond's diary: "Another session with Indian musicians at All India Radio – pretty much a mutual admiration society for rhythm men. Joe impressed by hand technique, odd meters (5, 7, 11)."