06 December 2020
Happy 100th birthday Dave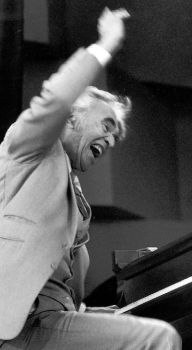 Today, 6th December 2020 is the 100th birthday of Dave Brubeck.
Dave Brubeck has and continues to give to me so much in my life that a humble thank you will never seem sufficient.
Not alone was he a wonderful pianist and jazz and classical musician, he was also a civil rights activist, a humanitarian, a fantastic family man and a wonderful human being.
His music influenced so many jazz and other genre musicians and continues today with new generations of jazz musicians coming through. He is rightfully considered in the pantheon of Jazz legends. He left his wonderful legacy of a vast body of amazing music for current and future generations to enjoy.
Dave Brubeck said – "The happiest I am is when I am playing Jazz."
This image above, from 1998, one of my favourite images of Dave, captures this. It shows his wonderful joy of performing, he is "in the zone" and he knows his audience is right there with him.

The happiest I am is when I listen to the music of Dave Brubeck.
Happy birthday Dave. Never forgotten.