24 October 2020
From Time OutTakes - Blue Rondo à la Turk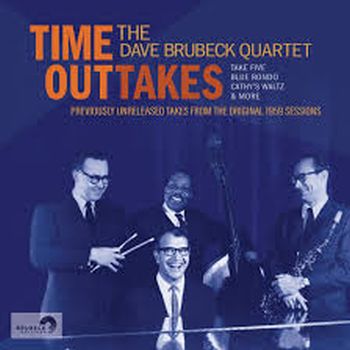 From the forthcoming new album release, Time OutTakes, is the previously unreleased version of Blue Rondo à la Turk.

Click here.


From Downbeat magazine ©

First released on Dec. 14, 1959, The Dave Brubeck Quartet's Time Out achieved prominence in popular culture in a way few jazz records ever have.
It has remained sonically stamped on American life, offering up compositions like the title track and "Cathy's Waltz" that still are recognizable to people with only a passing interest in jazz. But the album also gave the world Brubeck's "Blue Rondo À La Turk." A previously unreleased version of the song—along with six other tunes and some in-studio banter—is set for release as Time OutTakes.
"Blue Rondo À La Turk" was probably passed on simply because of length; Dave Brubeck explored his music very deeply during his blues solos—10 choruses to be exact. (The other version, from the third session on Aug. 18, came out as the flip side of 'Take Five' and had only four choruses of piano),"
Chris Brubeck, a multi-instrumentalist and Dave Brubeck's son, wrote in an email to DownBeat. "On this Time OutTakes track, elements of the core musical themes are restated, inverted, made polytonal and thoroughly integrated into these creative blues explorations. Here, [saxophonist] Paul [Desmond] and Dave make reference to Turkish-sounding scales that extend and unify the main idea, so the solos are more interesting and better serve the composition."
The younger Brubeck added that the tune came to be following a 1958 U.S. State Department tour when his father took in a performance of Turkish street musicians and was supposedly inspired to write a piece with a 9/8 time signature.
Along with Brubeck, who would have turned 100 this year, and Desmond, the upcoming album features work by bassist Eugene Wright and drummer Joe Morello, all members of Brubeck's classic quartet.
The album, due out Dec. 4, ranks as the first release from Brubeck Editions, an imprint overseen by the Brubeck family. DB