13 February 2022
Chris Brubeck reflects on his Dad's 100 Year legacy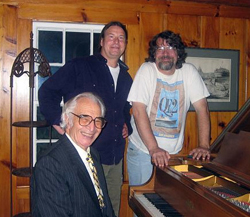 From capradio website:

"Few names are as synonymous with jazz as Dave Brubeck. The renowned pianist and composer would have turned 100 back in 2020. This year, sons Chris and Dan are finally celebrating the centennial of their late father with a worldwide tour with their group, Brubeck Brothers Quartet, that includes a stop at Sacramento's Crest Theater.

We interviewed Chris who discussed many topics including his Dad's legacy and also this weeks concert on February 2nd.
The concert by the Brubeck Brothers quartet is a delayed centennial celebration and its a chance to connect with young musicians as the brothers will hold two workshops earlier in the day.
"We're working with an organization called Friends Of Sacramento Arts, and so they're trying to maximize the impact of our presence in Sacramento. We're gonna be streaming our workshop and probably hitting about a thousand young jazz students in the Sacramento area, both high school and college age," Chris said.
For the interview click here.