18 January 1997
Piano Jazz With Marian McPartland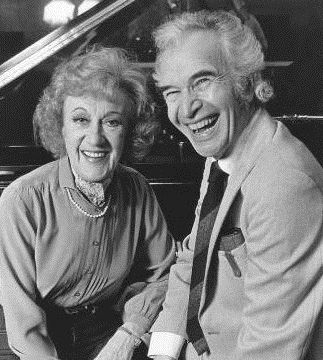 Click here for radio broadcast / interview
Recorded at Willard Intercontinental Hotel, Pennsylvania Avenue, Washington DC

Songs played

Just You, Just Me
Thank You ( Dziekuje) (Dave Brubeck Solo)
Marian McPartland (Dave Brubeck Solo)
In Your Own Sweet Way
Summer Song (Marian McPartland Solo)
Desert & The Parched Land
One Moment Worth Years
St. Louis Blues

From NPR website.

This Piano Jazz was recorded before an audience at Borders Books and Music in Washington, D.C., in 1997.

Brubeck and McPartland start off the session with an inspired duet in "Just You, Just Me."

"You always do something different in every session," McPartland says. "I have that record at home, and it's nothing like what you just did."

"I have a bad memory," Brubeck jokes.

Jazz Brings Freedom

In "Thank You," Brubeck pays homage to Frederic Chopin, the towering keyboard figure of the Romantic Age. Brubeck chooses Chopin's darker moods for his musical portrait, but in talking with McPartland, he recalls his feelings of hope upon visiting Chopin's home country of Poland during the Cold War.
"People in the U.S. don't realize that jazz brings freedom to these other countries almost more than anything else we can do," Brubeck says.
Brubeck continues with a tune that has become a standard, "In Your Own Sweet Way," which has been recorded by more than 50 different jazz artists.
To close this Piano Jazz, Brubeck and McPartland take the session to bedrock with a ringing duet of "St. Louis Blues."